MEET THE AUTHOR
Melvin Bray is an Emmy® award-winning storyteller, social entrepreneur, and author who lives with his wife, three kids and two dogs in southwest Atlanta, GA. He is an active participant in vanguard networks seeking more beautiful, more just, more virtue-filled ways of showing up in the world.

BETTER
Waking Up to Who We Could Be
by Melvin Bray
Foreword by Brittney Cooper
What if we could actually change the world by telling better stories? What if the world we have—with its racism, sexism, heterosexism, ableism, religious hatred, ecological disregard—is exactly the world we have spun into existence through the stories we have told?
In his new book, Melvin Bray insists that a better world is possible if the stories around which we organize our lives begin to match the beauty we imagine is possible. Bray puts forth his own daring yet faithful reimaginings of classic faith stories that inspire more beautiful, more just, more virtue-filled ways of being in the world.
Better offers a spiritual path on which people—for whom life has called into question many of their assumptions about God and the world—can continue to hold onto their faith, while joining others of goodwill in seeking sustainable, cooperative, and courageous answers to the seemingly intractable problems of our time.

FOREWORD
BY BRITTNEY COOPER, PH.D.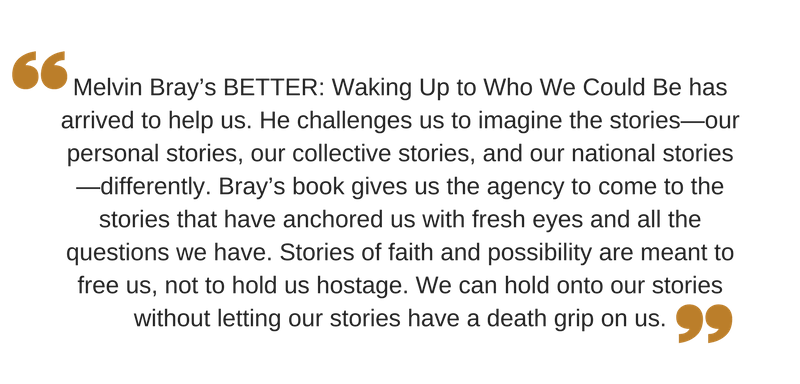 Endorsements

"Lord have Mercy—I needed BETTER. I needed Melvin's imagination, wisdom, commitment to grace, and the seriousness and playfulness with which he approaches God, scripture and love. The only way forward for people of light is to wake up to our faith as a unifying source of light and healing – In BETTER, Melvin shows us the way."
Glennon Doyle Melton
#1 NYT Bestselling author of Love Warrior and founder of Momastery.com and Together Rising
"A breath of fresh air for people suffocating under rigid, compassionless faith traditions that marginalize Grace, Justice and Compassion. The world is in need of better stories, a better way and a new lens to see an old story. In an age of fear, racial anxiety, and xenophobia we need this radical epistle of love more than ever to reroute the course of our beloved yet static institutions. Bravo! This is the book I have praying for."
Rev. Dr. Otis Moss III
Trinity United Church of Christ (Chicago), author of Blue Note Preaching in a Post-Soul World
"Melvin Bray's Better deserves your time and attention. It will introduce you to the wisdom of one of the most delightful and insightful moral and spiritual educators I've ever met. It will help you read the Bible in a fresh and desperately needed way. And it will equip you to become a better teller of better stories to build a better world.
Brian D. McLaren
author/activist (brianmclaren.net)
"Bray positions Better as an escape route for persons living under religious oppression. In Better, Bray masterfully recalibrates the tension between faith and formation. He captures the cadence of culture and argues that knowing how to survive doesn't make us Better. Bray has his finger on the pulse of the fate awaiting [faith] communities that refuse to re-imagine their story. Better is the spark plug needed to ignite any beloved community to bend toward justice."
K. Edwin Bryant, PhD
author of Paul and the Rise of the Slave
"For those frustrated by the way our faith stories have been held captive by fundamentalism and toxic religiosity, Melvin Bray calls us to compost rotting ideology into life-giving spirituality. His effective retelling of faith narratives move us into better ways of living in Beloved Community. Read this book and be equipped, inspired, and challenged to go tell better stories in your community!"
Cindy Wang Brandt
Author of Outside In: Ten Christian Voices We Can't Ignore, blogger at Unfundamentalist Parenting
THE BETTER MOVEMENT
LIKE & FOLLOW US ON FACEBOOK
JOIN THE CONVERSATION
#

BETTER

begins

NOW!